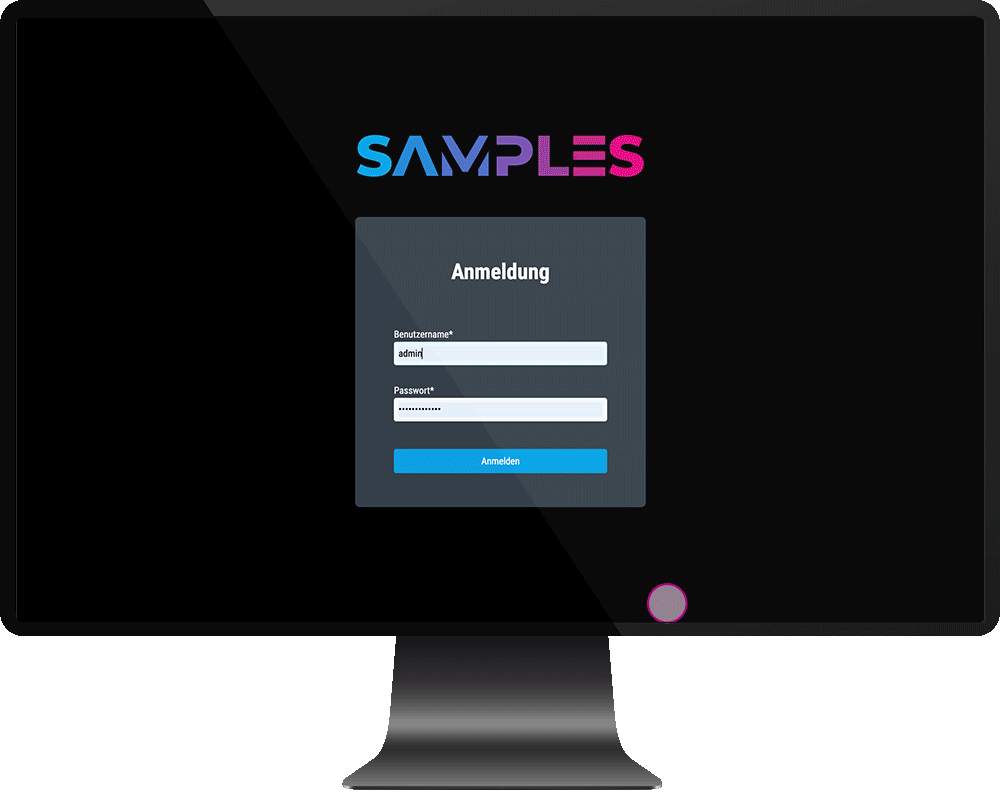 Sample management with SAMPLES simplifies your processes and connects you to the tools you already use – for unlimited possibilities.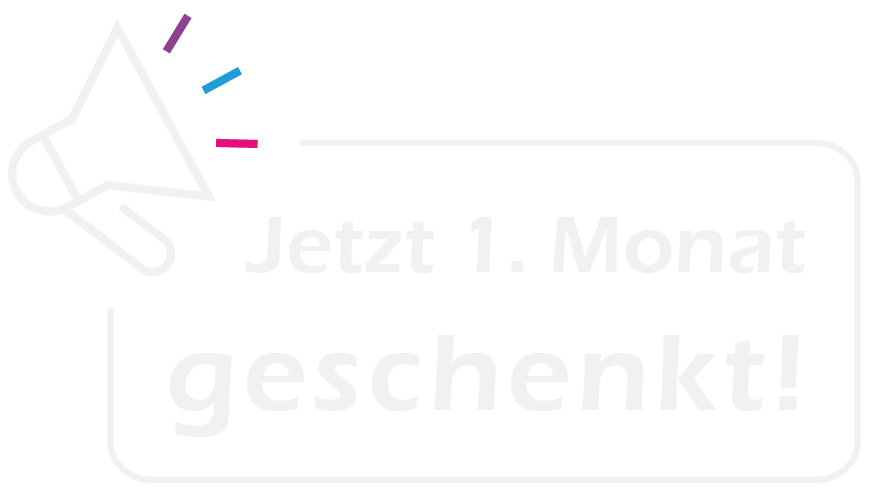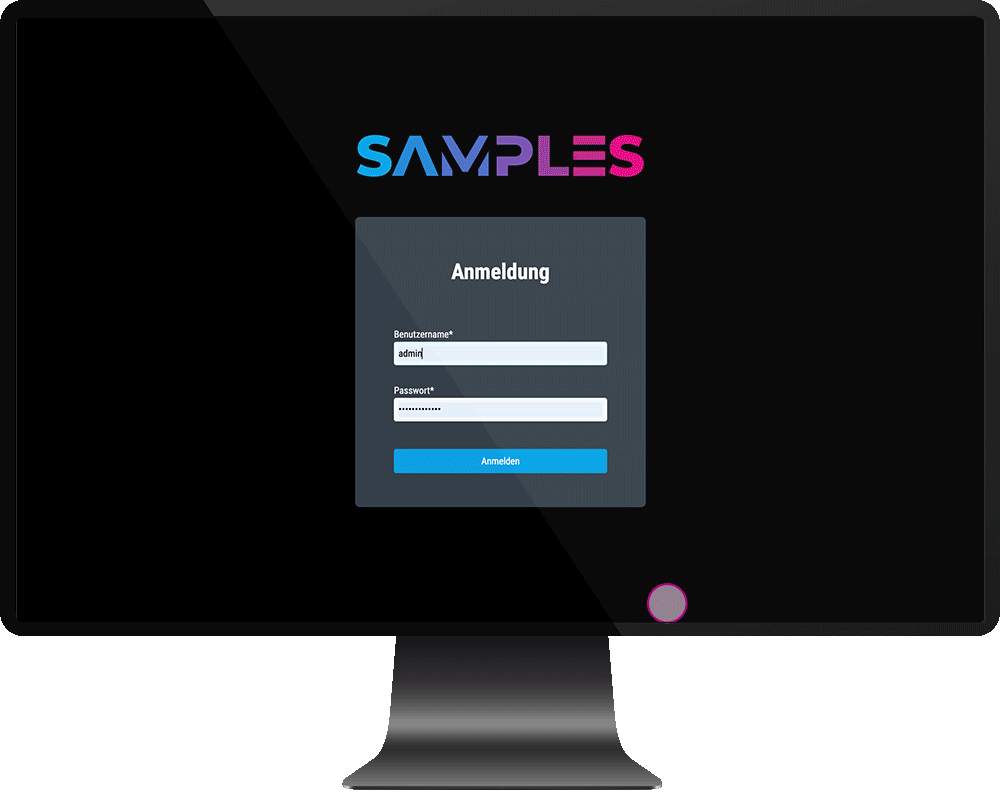 Made in Germany by passionate lab people
Organize professionally. Analyze efficiently. Automate smartly.
You want to organize samples efficiently – from order entry to sample storage. With SAMPLES, this can be done in no time – without training or long familiarization.
Easy to set up and customize
Professional data and sample management
Get rid of critical Excel lists
Security with rights and roles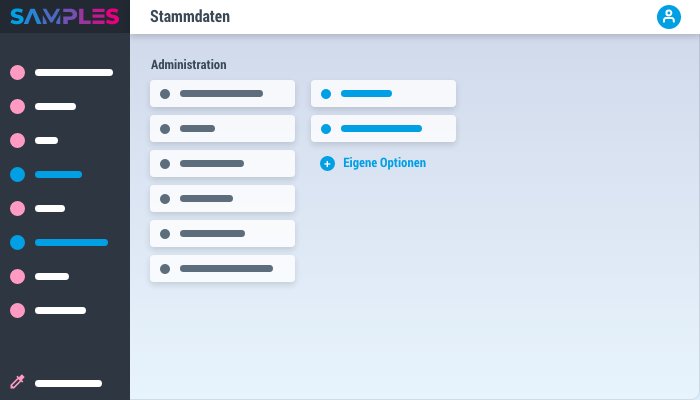 Your individual processes
Your lab is not like any other. Neither are the processes. That's why SAMPLES offers you a wide range of options to customize the application to your needs:
Custom fields and catalogs
Automatically generated number series
Self-definable objects and selection lists
Schemes for specimen storage
Customized view options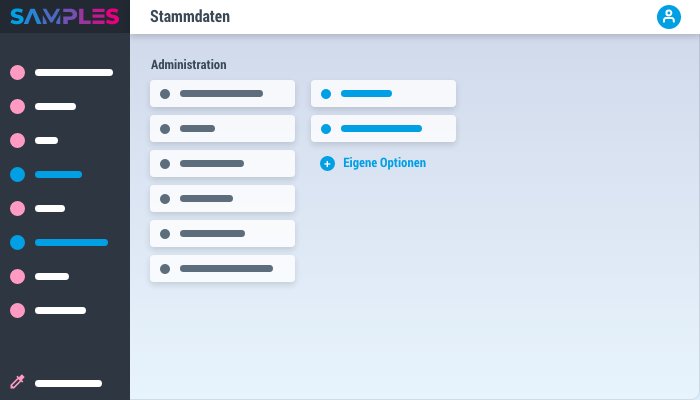 Maximum security of your data
The security of your data is important to you. Us too.
That is why we pay special attention to data security – without compromise.
Data on servers in Europe
Microsoft Azure Cloud Security
Regular, automatic updates
Your webapp – your freedom
SAMPLES is web-based, giving you and your team the flexibility to work, schedule or approve from anywhere, regardless of location.
Perfect for research projects
Ideal for teams with multiple locations
No additional hardware necessary
Avoid duplicates and inconsistencies
True to the motto "fair first", you always have control over your data. You decide if and when you export and process them – SAMPLES supports you.
Easy export in XLSX format
Externally evaluated data can be assigned to a sample
Exchange of findings via HL7 / FHIR
Integrate with your infrastructure
The open software architecture (GraphQL) allows SAMPLES to be optimally integrated into your existing IT infrastructure. And: if your requirements change, SAMPLES simply grows with you.
High integrability through GraphQL
Maximum connectivity
Unimagined automation potential
Expandable according to demand
Realization of high-performance interfaces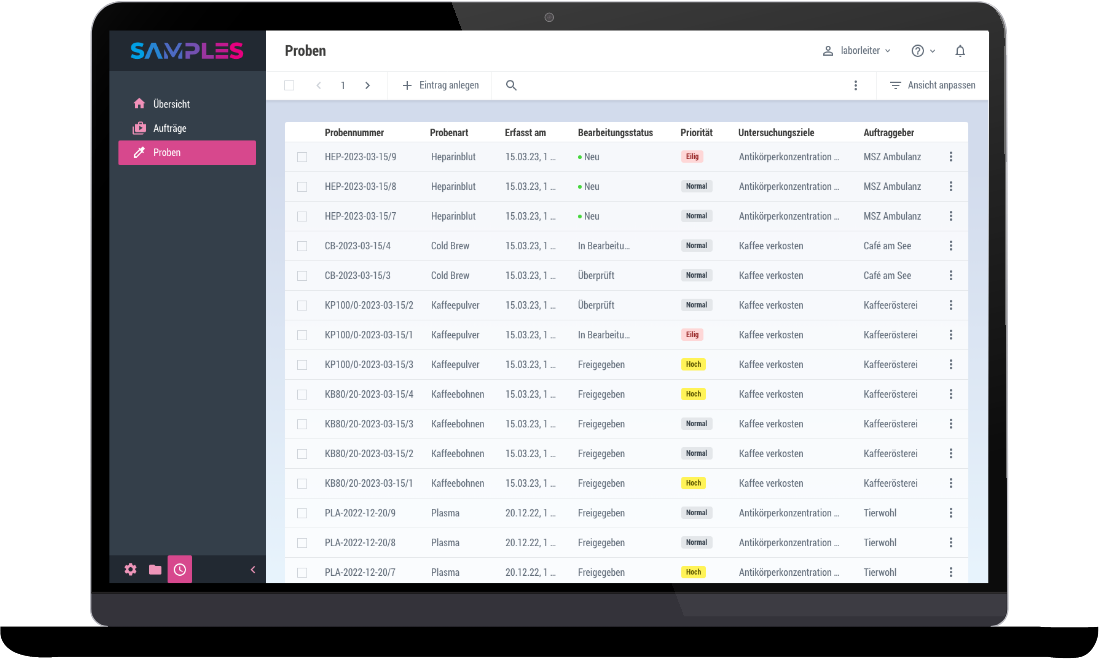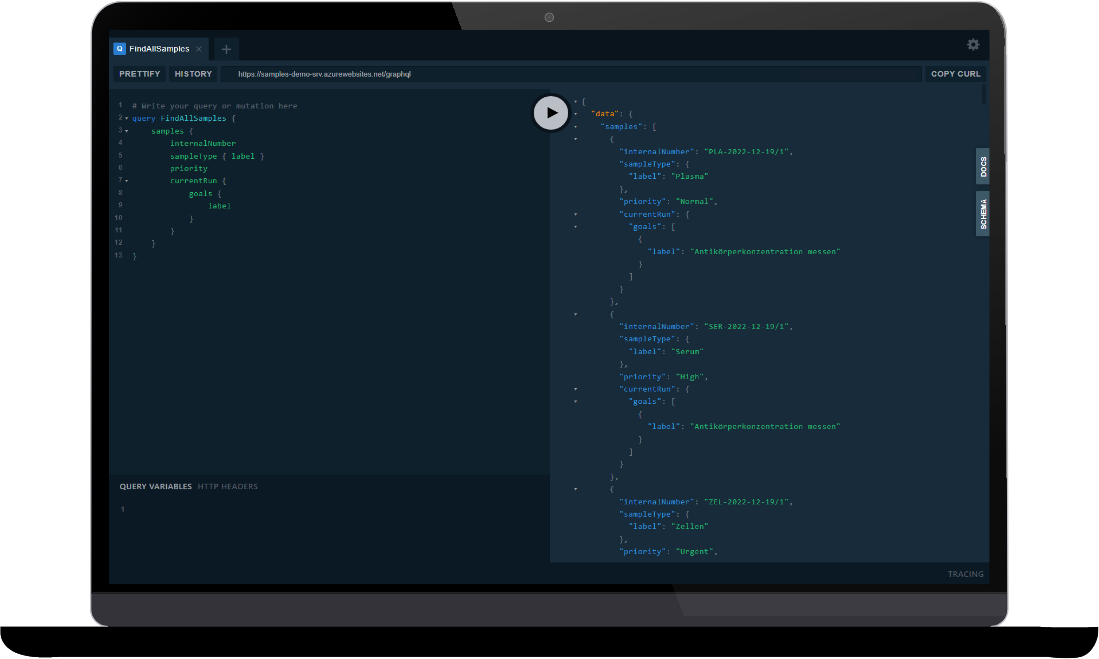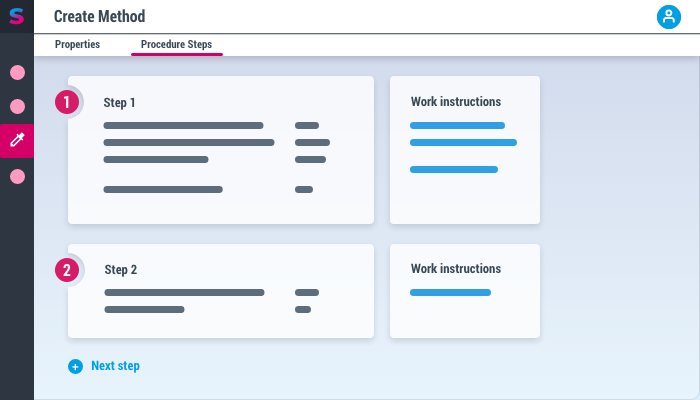 Configure your exams yourself
Your laboratory not only knows standard, but has special own procedures. That's why SAMPLES allows you to configure examinations yourself – whether for daily routine or according to the requirements of your clients.
Base sizes and units
Definable sample types
Configurable parameters
overall study objectives
Deposit of methods and work steps with work instructions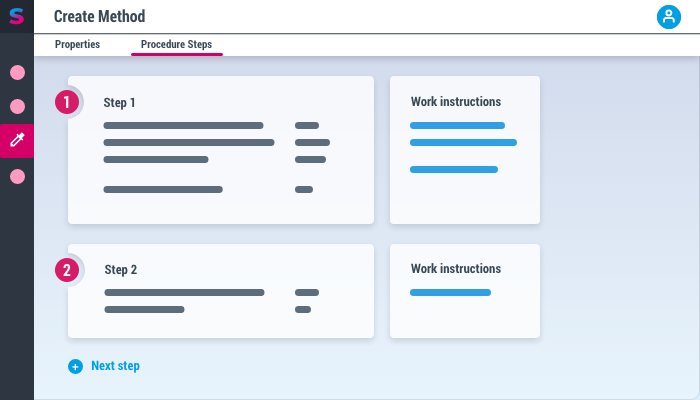 According to studies, laboratories invest a quarter of their time in important but non-value-added activities. You too so far? Then it's time for SAMPLES! It supports you efficiently with the documentation.
Fast and structured documentation, guided by Lab Execution System "LES" on request
Add supplementary observations in routine mode
Easy tracking of the processing status
Technical review
Technical release according to the 4-eyes principle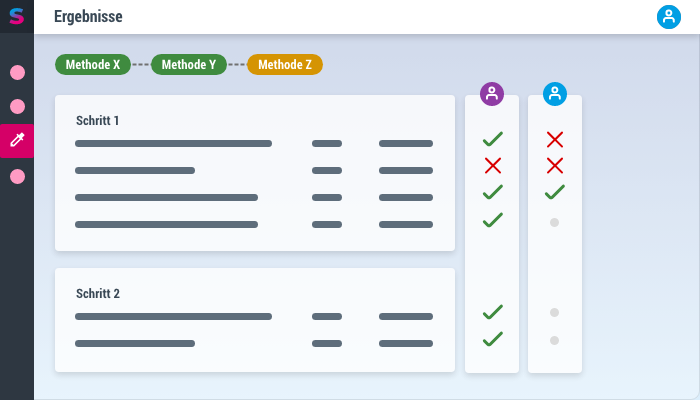 Connection of external tools
You also want to use Jupyter Lab, numPy, matPlotLib or other tools for your evaluations?
SAMPLES provides you with the interfaces to dock, load and process your data.
You want to fully automate your laboratory processes and connect devices such as balances, pipettes, analyzers, etc.? Then SAMPLES is the right choice, because it has, among other things, a SiLA-2 interface and a Lab Execution System (LES). Our automation experts will be happy to provide you with advice and support – even for individual solutions.
We are looking forward to your inquiry!
This video shows an example of the automation of a laboratory process that we implemented as part of the special show "The Laboratory of the Future" at analytica 2020.
You work in the clinical field?
…SAMPLES ist für dich bereits vorkonfiguriert!*
Die Anwendung verfügt über ein integriertes Modul für klinische Proben.
Beste Voraussetzungen also, um direkt zu starten – ganz egal ob für den Einsatz in Routine oder für R&D.
Klinische Entitäten: Patient, Studie, Medikation, Indikation und Diagnose
Studienspezifische Lagerung
HL7 FHIR-Schnittstelle  → offizielle Dokumentation
* Das Klinik-Modul kannst du während des Kaufprozesses einfach auswählen und hinzufügen. Es sind damit keine zusätzlichen Kosten verbunden.
Die Testversion (TestDrive) ist ausschließlich ohne Klinik-Modul verfügbar. Gerne führen wir dir die Software persönlich in einer Demo vor.
Basic
Unser leistungsfähiges Basispaket
€299

pro Monat bei
jährlicher Zahlung.
Jahrespreis 3.588 €

3 Nutzer*
10 GB Speicher
1.000 neue Proben/Monat

€549

pro Monat bei
jährlicher Zahlung.
Jahrespreis 6.588 €

6 Nutzer*
20 GB Speicher
2.000 neue Proben/Monat
✓ Aufträge
✓ Proben
✓ Probenlagerung
✓ Untersuchungsziele
✓ Parameter & Ergebnisse
✓ Geräteverwaltung
✓ Lineare Methoden
✓ mehrere Runs pro Probe
✓ zweistufige Freigaben
✓ Zeitleiste
✓ Archivierung von Proben
✓ Benutzerdefinierte Felder
✓ Excel Exports aller Listen
✓ GraphQL-API
Optional:

✓ klinische Objekte
✓ HL7 FHIR
*Pakete mit mehr Nutzern sind selbstverständlich möglich. Bitte sprich uns an.
Upgrade
Erweiterung zum Basispaket
€79

pro Monat bei
jährlicher Zahlung.
Jahrespreis 948 €

3 Nutzer*
10 GB Speicher
1.000 neue Proben/Monat

€149

pro Monat bei
jährlicher Zahlung.
Jahrespreis 1.788 €

6 Nutzer*
20 GB Speicher
2.000 neue Proben/Monat
+ Versionierung
+ Audit-Trail
+ Batch-Analyse
Aktuell arbeiten wir an weiteren Features wie:
Prüf- und Verbrauchsmittel, Formeln, komplexe Methoden, Berichte, Schnittstellen-Mapping-Tool.
Du hast eigene Wünsche für spezielle Features? Dann kontaktiere uns einfach.
At qualitype GmbH, our team is a dynamic blend of seasoned experts, innovative thinkers, and passionate individuals, all united by a shared mission: to revolutionize your sample management experience with SAMPLES.
With over two decades of experience, we have been empowering clients globally to streamline their laboratory processes. Our comprehensive suite of services ranges from laboratory management systems to specialized solutions for DNA analytics and quality monitoring, all the way to regulated laboratory equipment software.
Reliability
Numerous state criminal investigation departments rely on our laboratory management and DNA analysis solutions every day.
Trust
For two decades we have been developing and operating large databases for
QS – the testing system for food.
Internationality
Our solutions are used in over 30 countries and support e.g. the UN on a humanitarian mission in Iraq.
Innovation
In research projects and with our sister companies, we develop efficient diagnostic solutions for oncology.
Let's talk
You have questions or want to learn more about SAMPLES?
Freddi and the SAMPLES team look forward to talk to you.
Freddi Gelbrich
SAMPLES Project Manager
Freddi Gelbrich
SAMPLES Project Manager
Let's talk
You have questions or want to learn more about SAMPLES?
Freddi and the SAMPLES team look forward to talk to you.